Rapid sketching of ideas
I love putting pencil to paper and capturing as many ideas as possible during the concept generation process. The idea isn't to produce high-quality drawings, it's more about quantity and the ability to quickly jump from idea to idea and produce potential solutions that help to inform and shape the design direction of the app entire.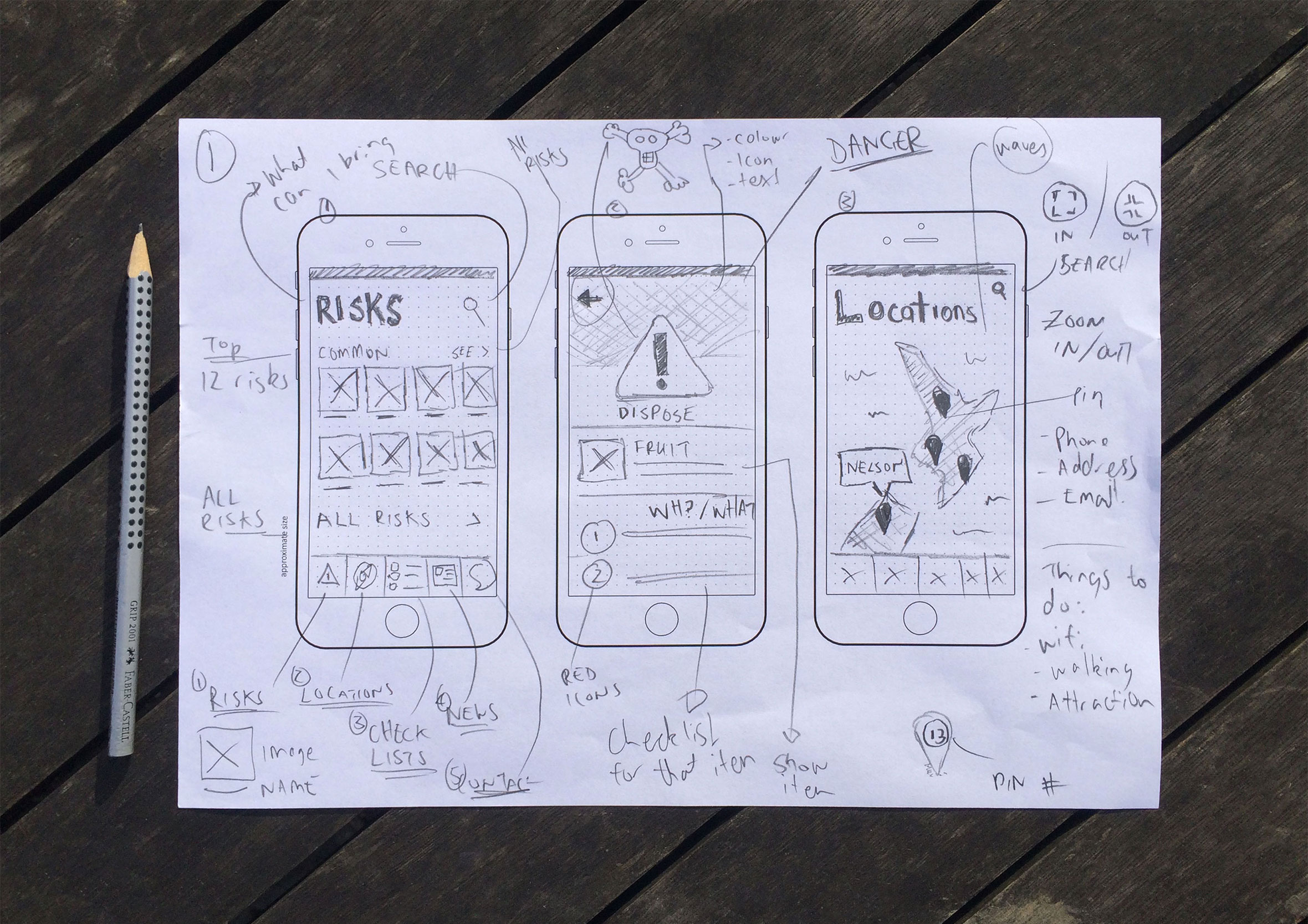 Information architecture
The information architecture maps out which screens are required and all the user interface elements which make up the structure of the app. By having everything in the one place it makes it easier to identify areas of improvements or gaps in the user experience.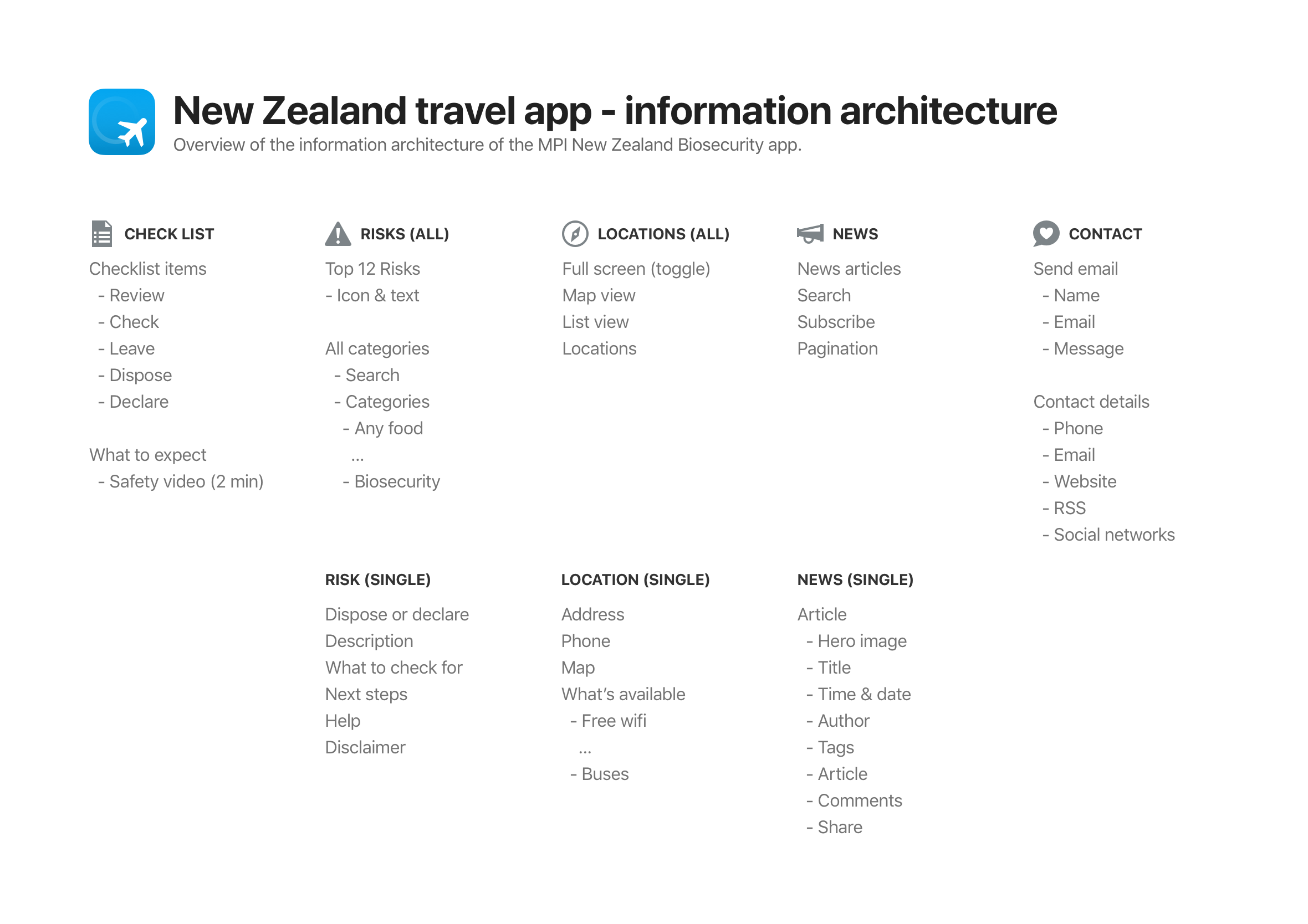 Wireframes
Wireframes were created and shared with the product owner and developers to get feedback and a better understanding of any technical limitations. The beauty of this low-fidelity approach is you can collaborate with the developers and work agile without getting caught up and wasting time on the smaller details ahead of time. While the developers are coding up the basic structure and framework you can start providing them with final visuals screen by screen. A continuous design and development loop.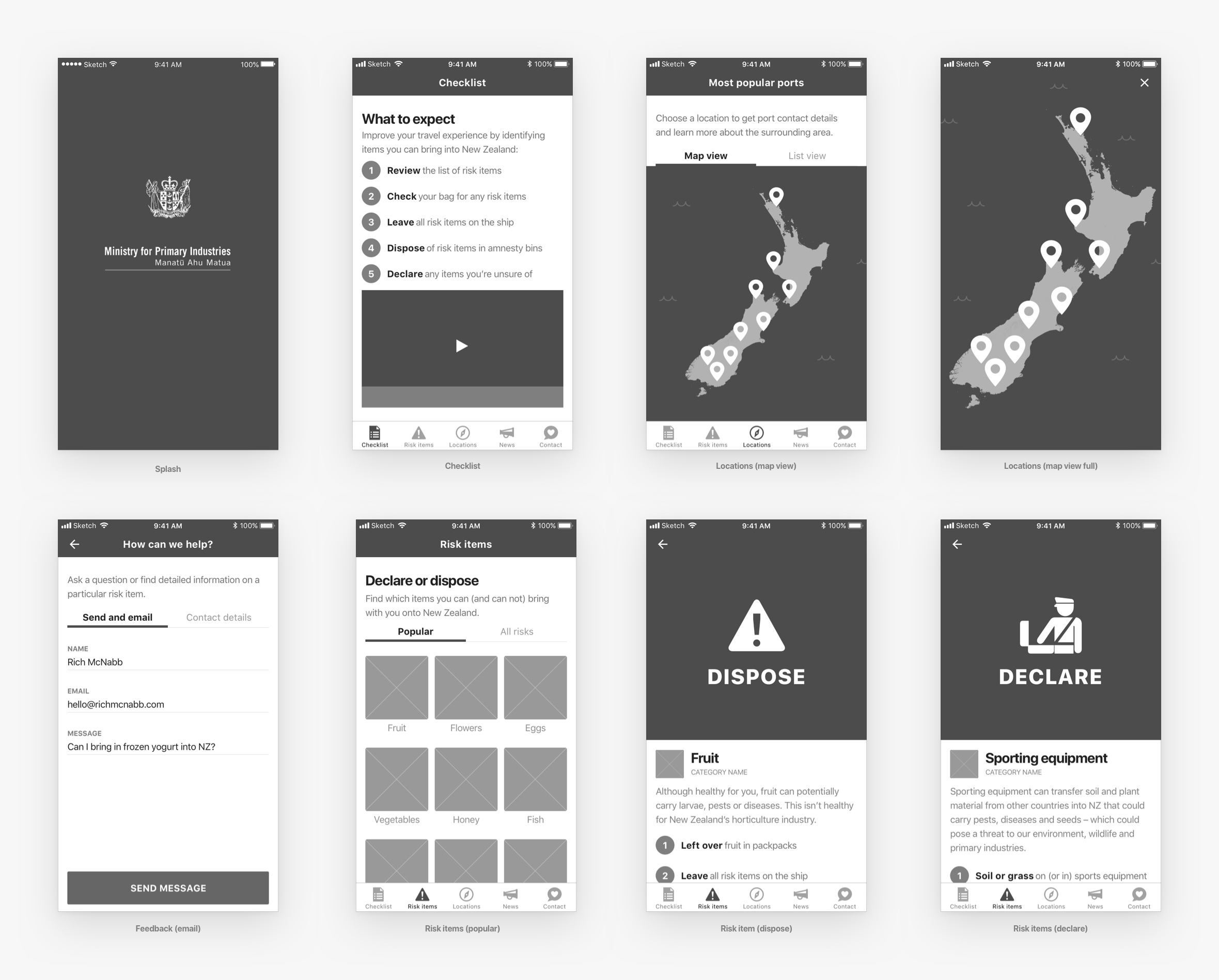 Designed with travellers in mind
The app was never designed to replace the original New Zealand Passenger Arrival Card it was designed to help educate and provide clarity to travellers on how they can speed up the time it takes to go through biosecurity checkpoints by being better informed on the risks to New Zealand. This becomes especially important for travellers where English is their second language, or they have no English skills.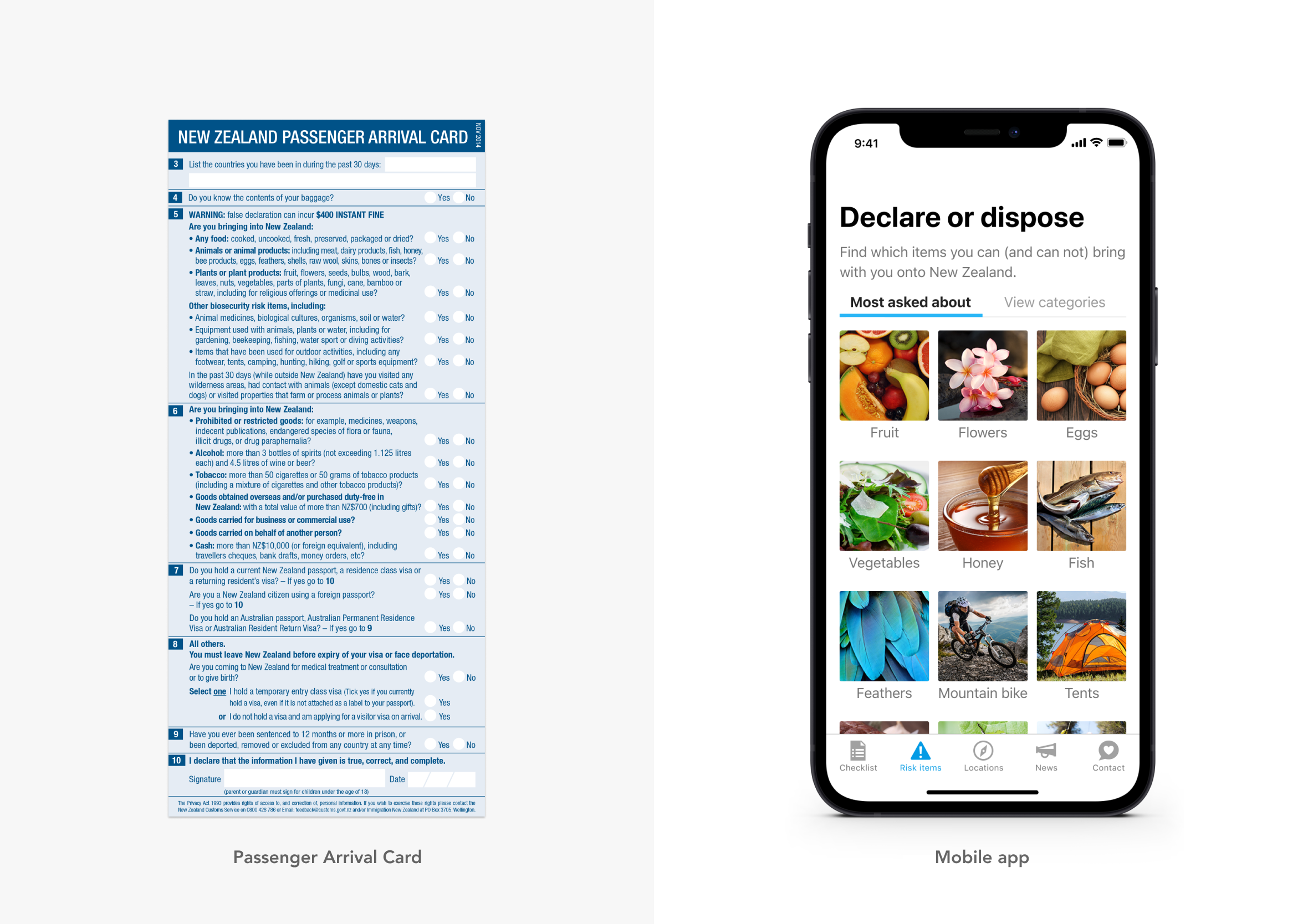 Site observations and user interviews
To ensure we were building a product people wanted (and would use) we went aboard cruise ships and spoke with crew members, MPI officials and passengers. When we had a working prototype we went out again to completed usability testing to validate assumptions, design decisions get feedback on how travellers thought the app could be further improved.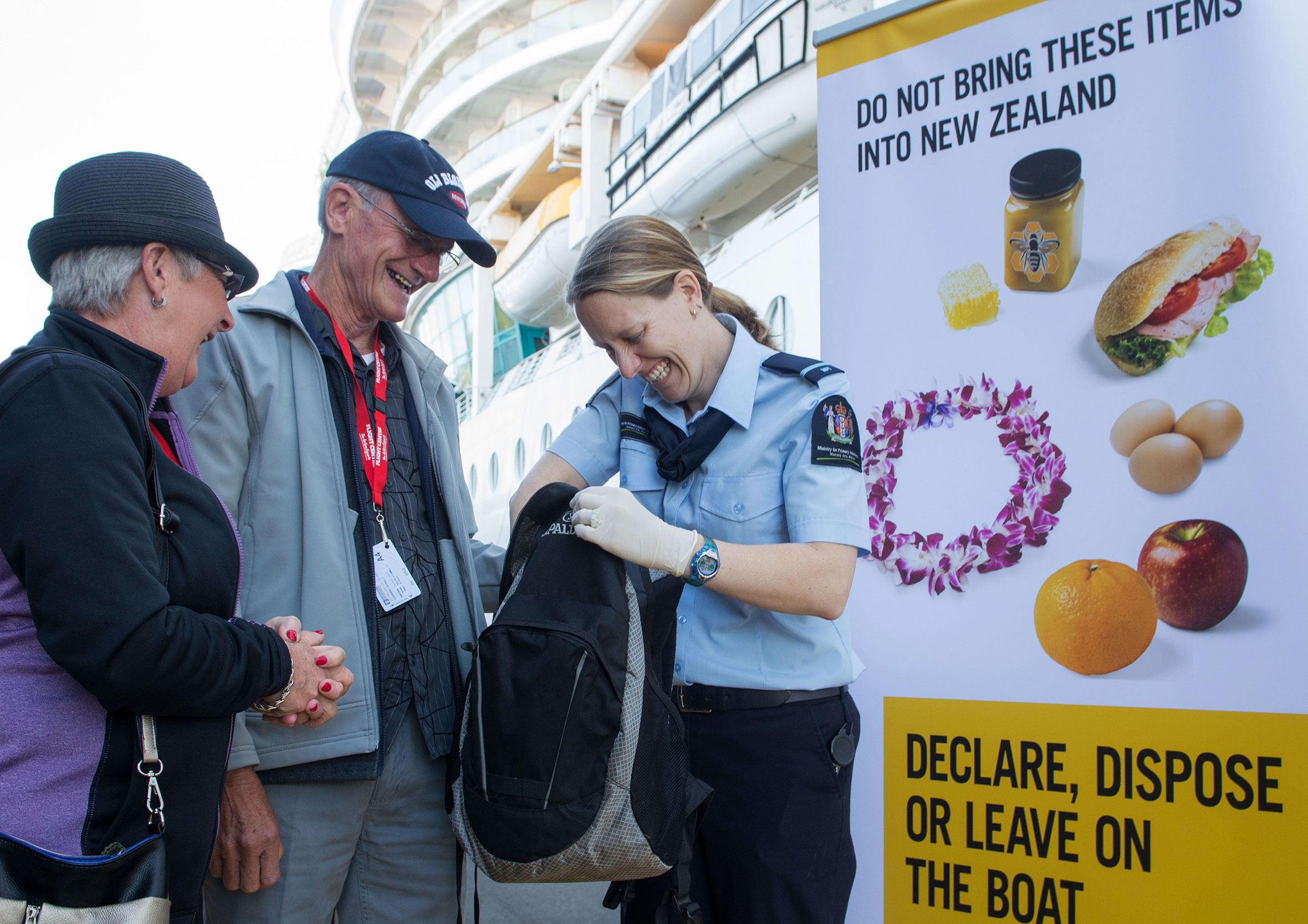 Everything you need in one place
The splash screen uses beautiful beach imagery to allude to the fact the app was designed especially for cruise line passengers. The checklist is a simple reminder of all the things to think about before coming to New Zealand. The emphasis is placed on trying to maximise the time the traveller has at each port.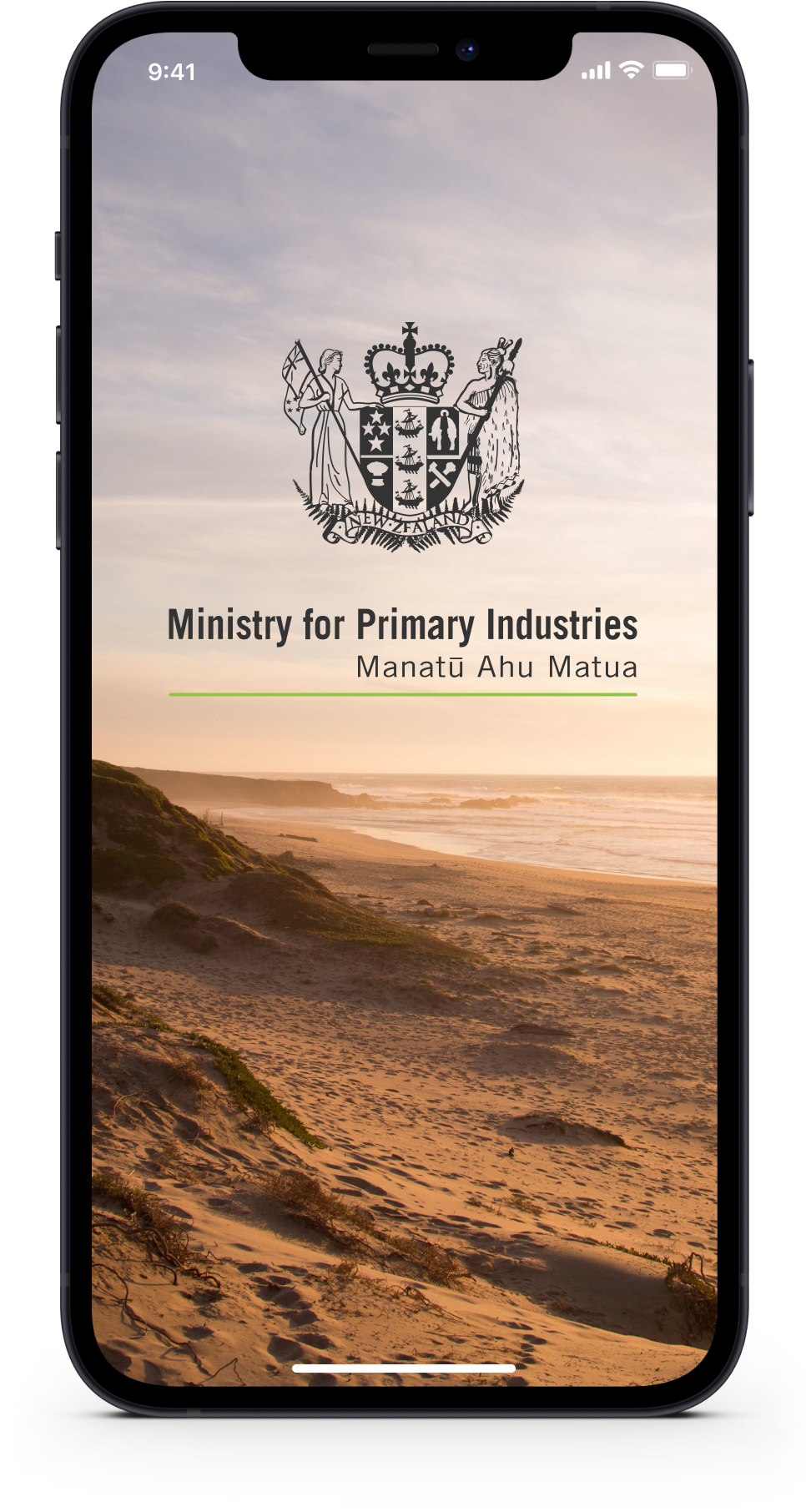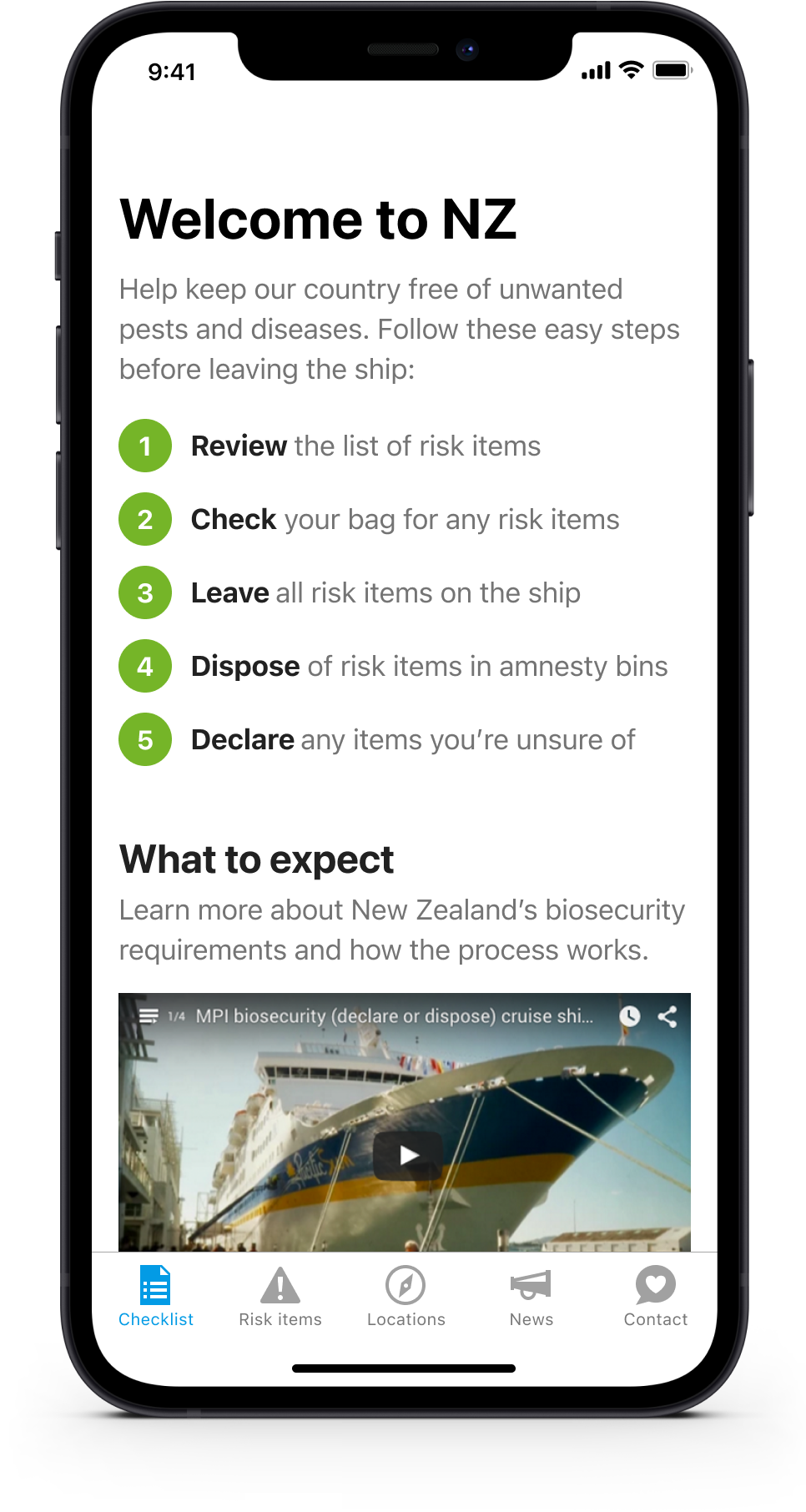 ---
Explore popular NZ destinations
The interactive map is a great way for travellers to learn more about New Zealand's geography and research their next destination. The ability to zoom in allows more information to be shown on smaller screens.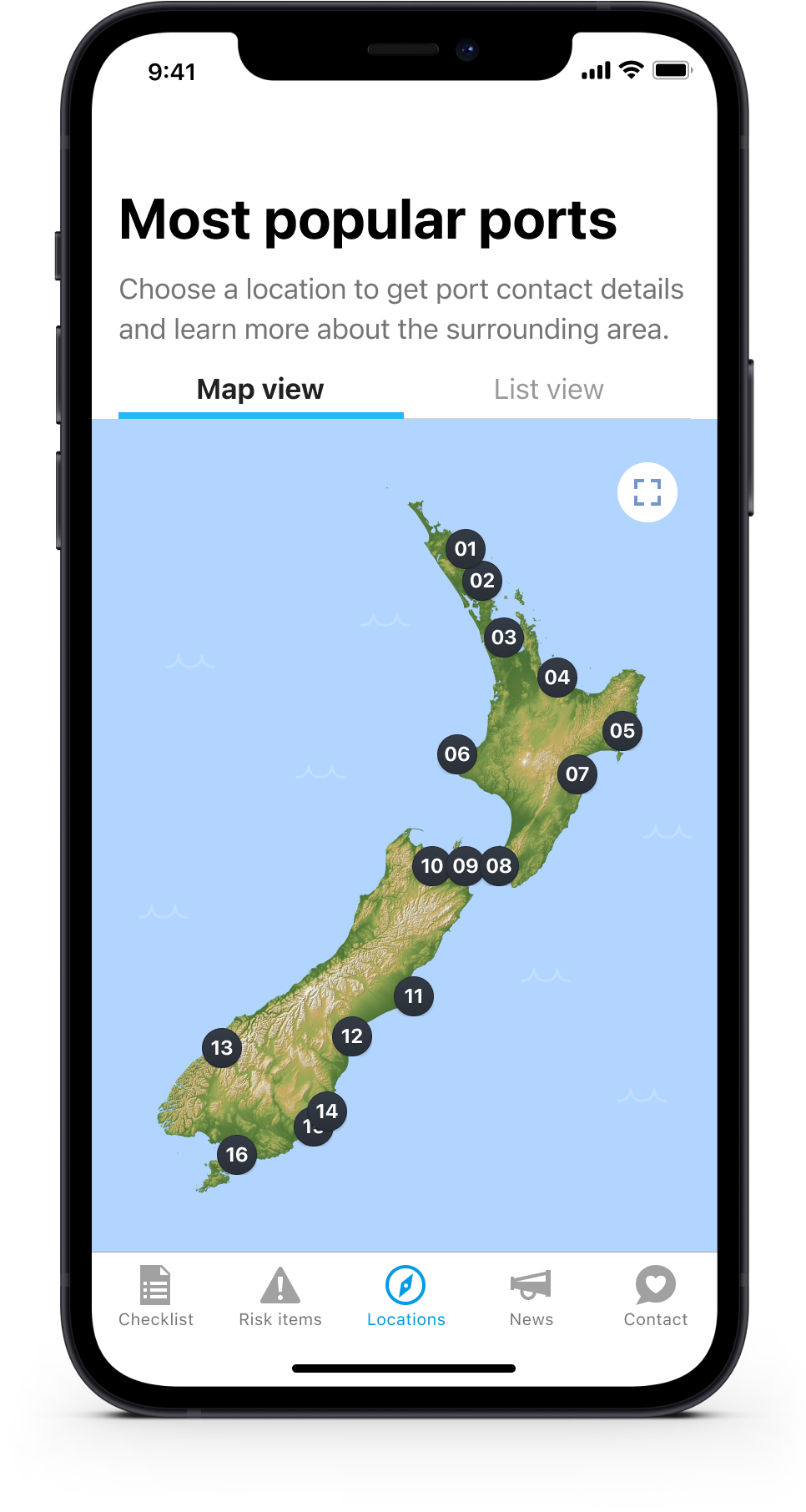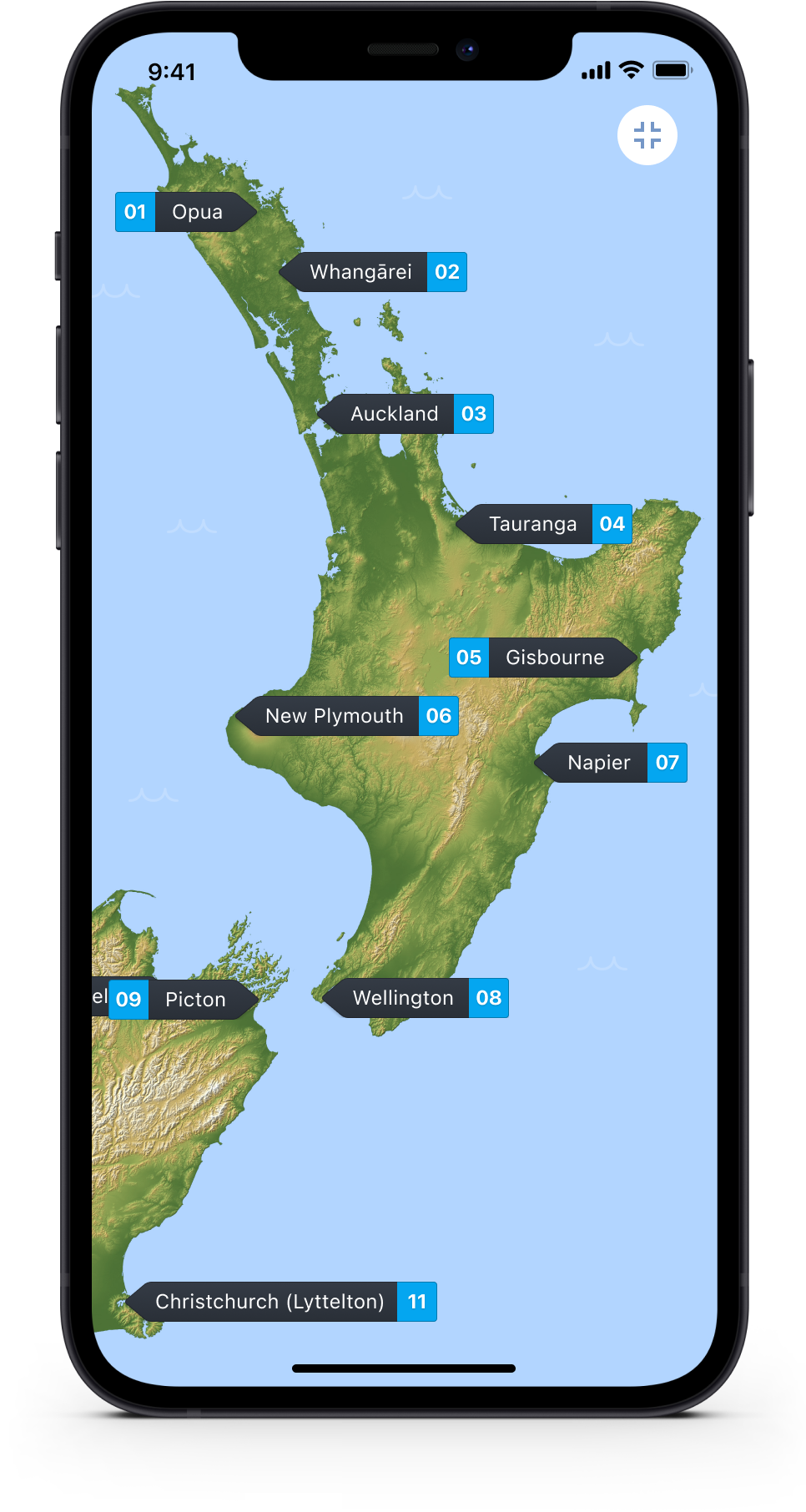 ---
Great travel tips for each location
Each individual port location provides access points for necessary travel information and is designed to answer travellers' frequently asked questions. The feature also encourages people to return to the app while staying up-to-date and well-informed with MPI's strict biosecurity requirements.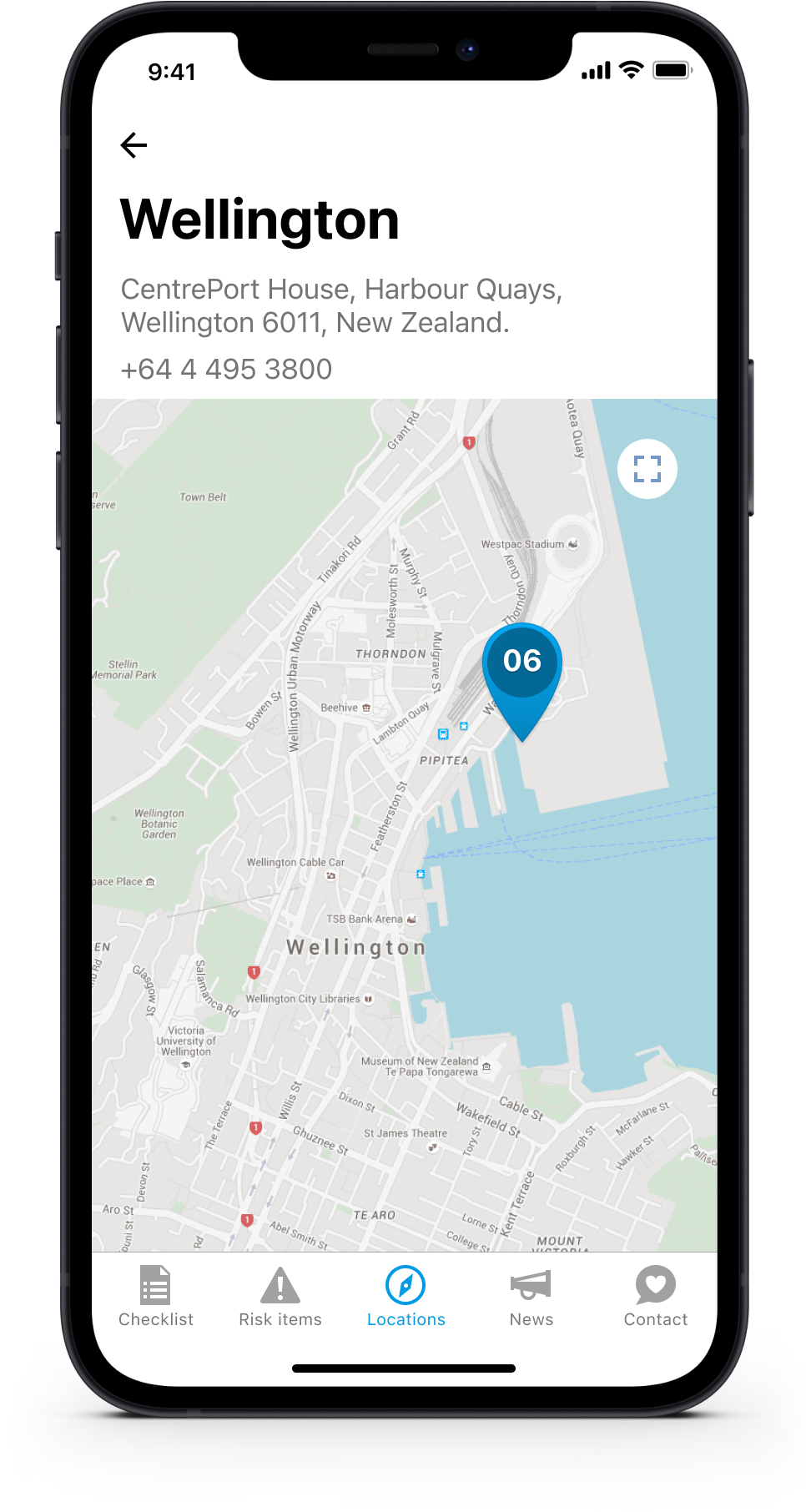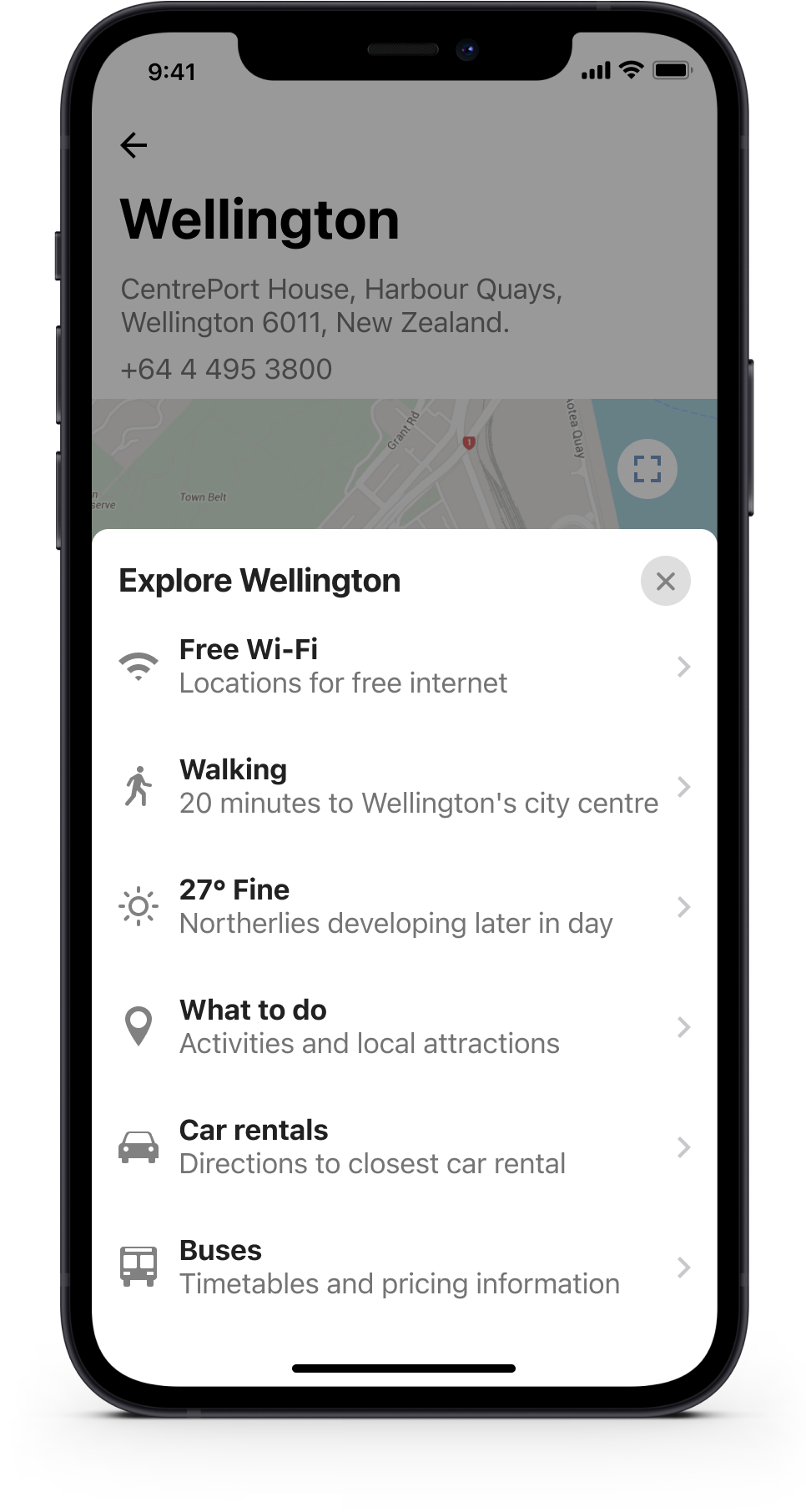 ---
What can you bring in with you?
Travellers can research which risk items they can (and can not) bring into New Zealand. The "Most asked about" are the top 12 items (based on MPI's intercept analytics) and are designed to catch the low-hanging fruit or 90% of infringements. "View categories" allows a person to find obscure risk items and learn more about New Zealand's biosecurity laws.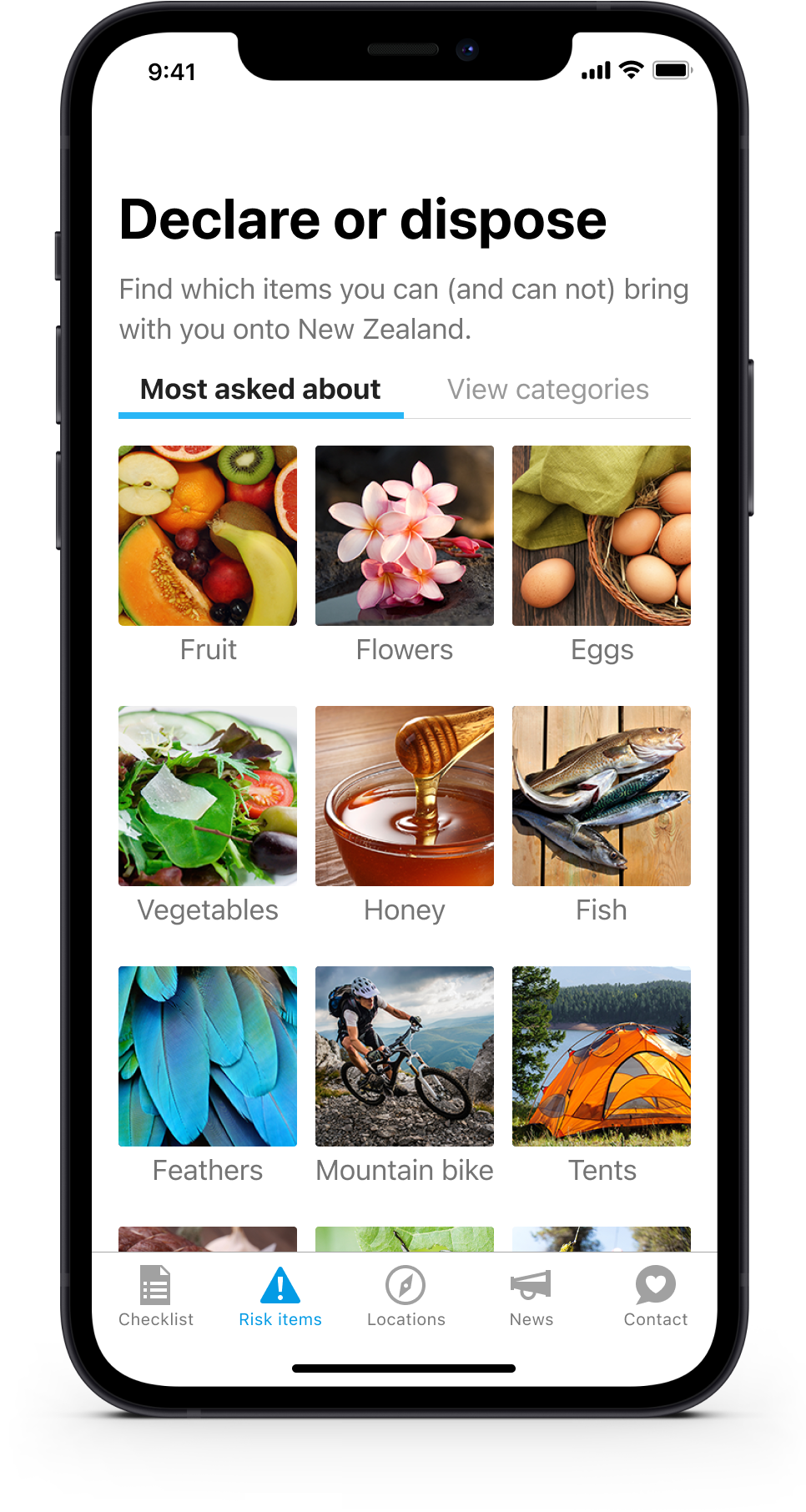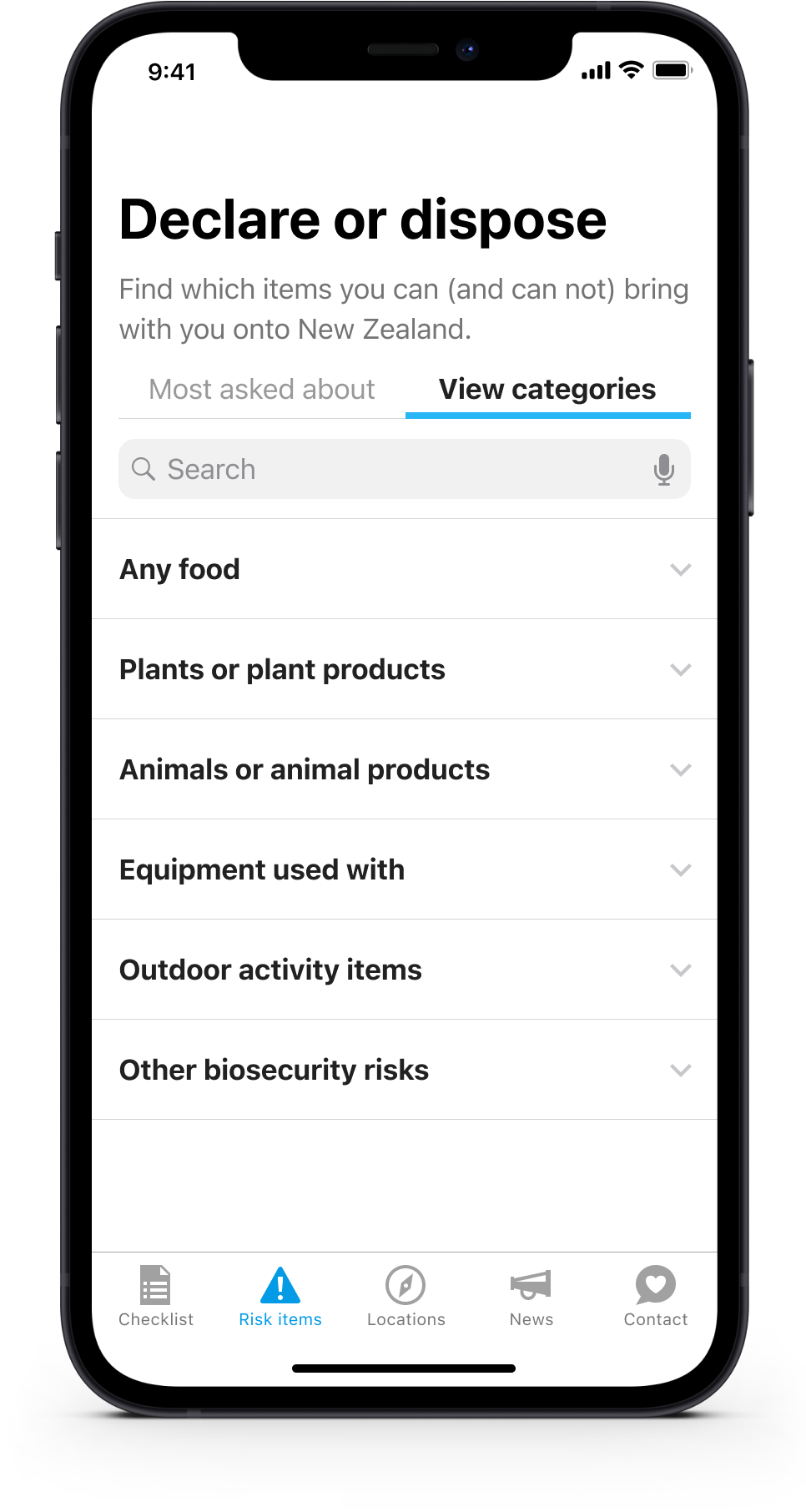 ---
Find out what you'll need to do
The Declare and Dispose screens for each risk item makes no confusion about an item's status and provides information to clearly and concisely answer the "what" and "why" and provide some context around the law. If a person has any question or wants to challenge a decision we've made it easy for people to ask questions and/or get more information from MPI.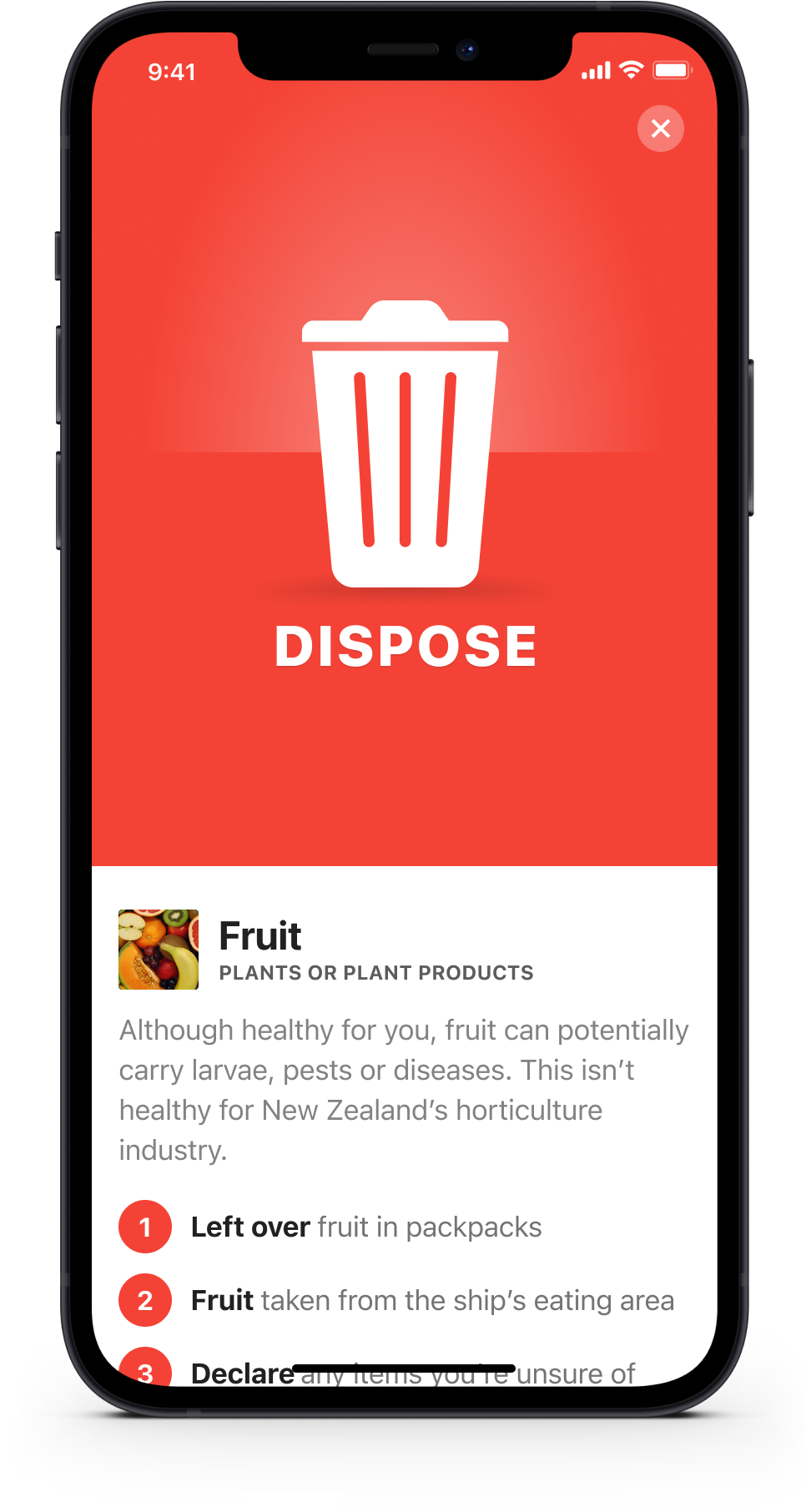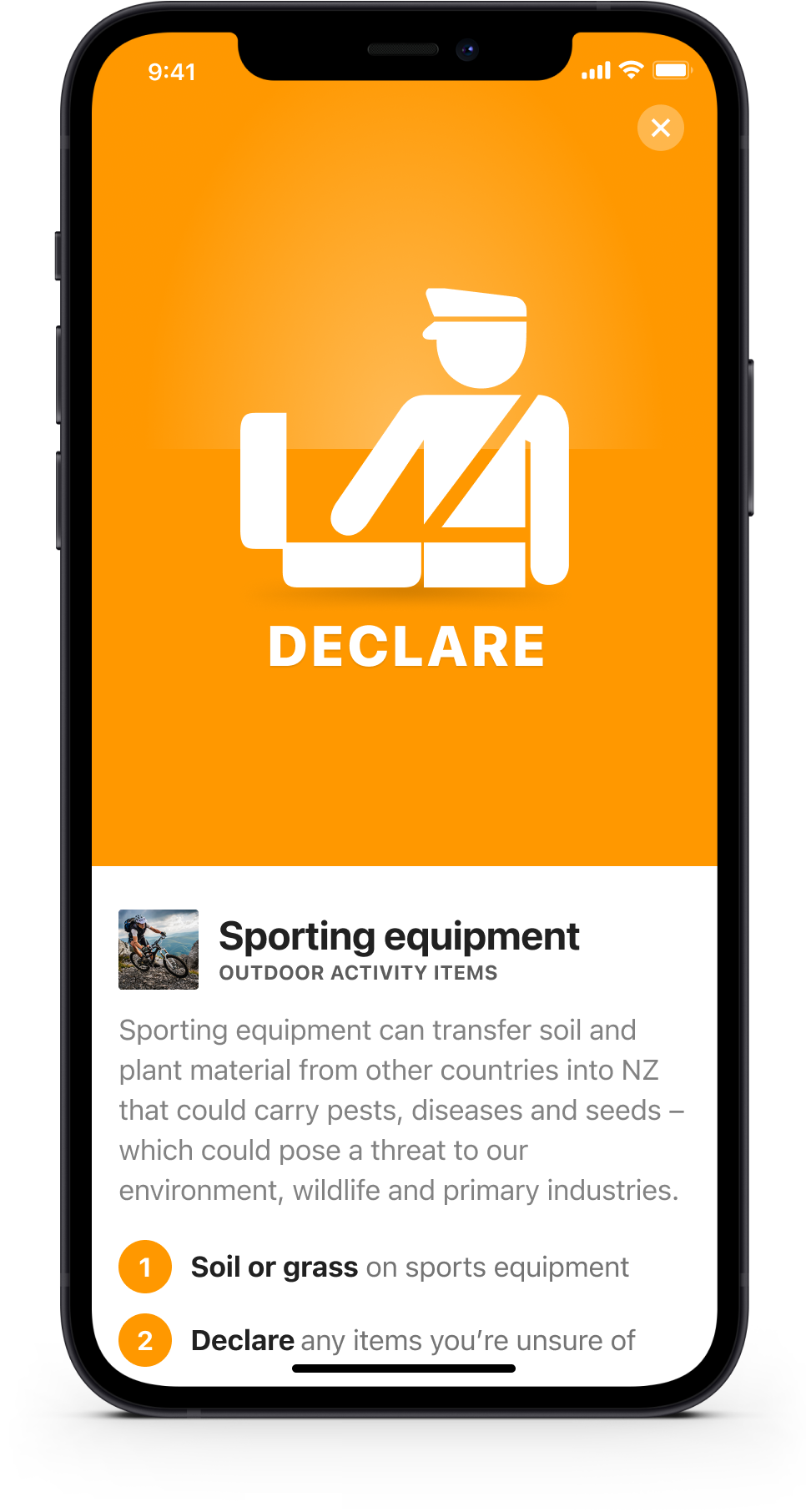 ---
Get answers to your questions
These screens didn't make it into the final version of the app, unfortunately, however, they were still heaps of fun to design.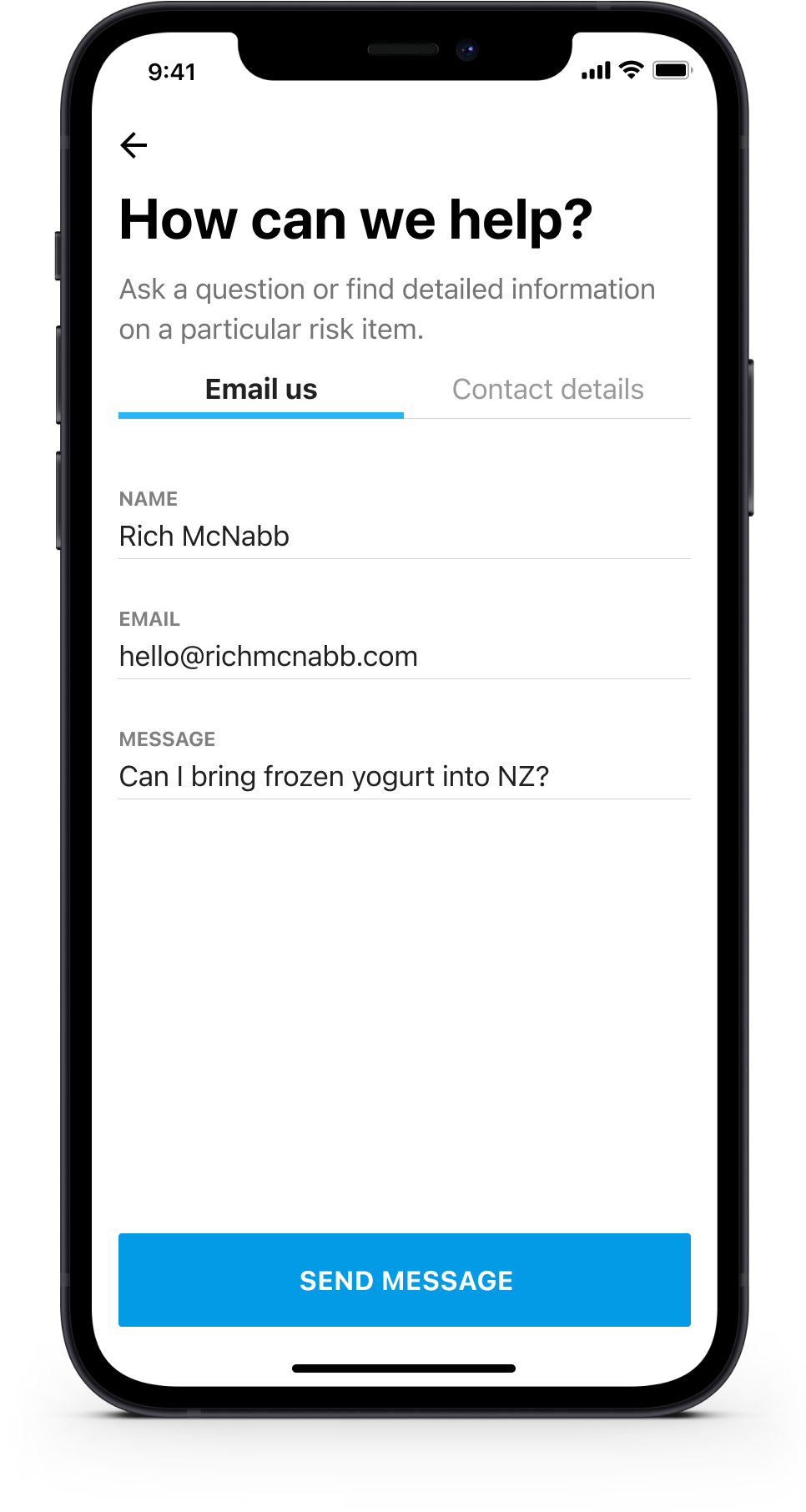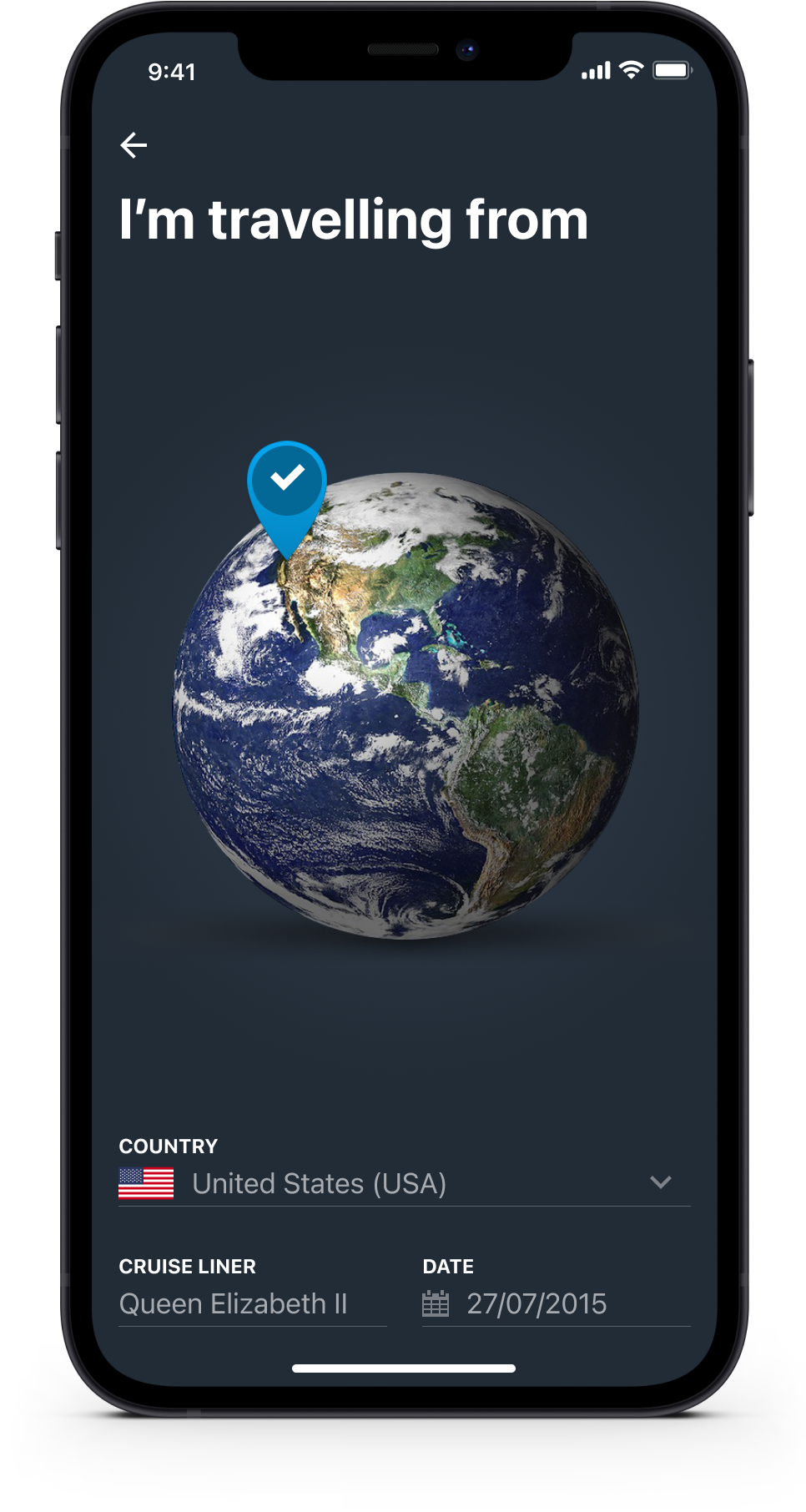 ---
Designed with iPad in mind
Based on what we observed at the ports and the people we spoke to we quickly discovered an iPad/Tablet version of the app would be required to ensure our target audience was properly catered to.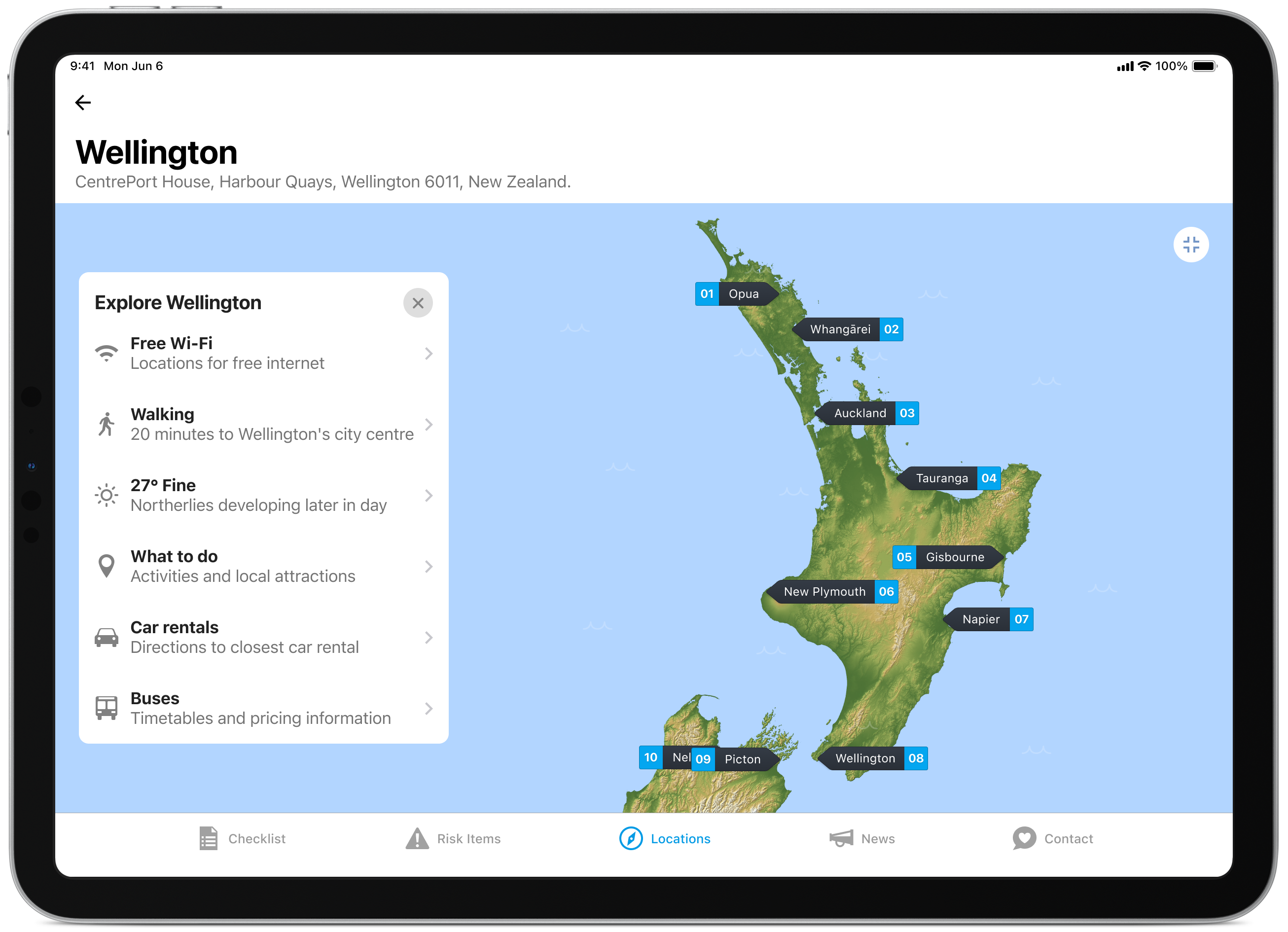 Declare or Dispose app
Similar to the playing deck game travelers can enjoy some downtime while learning more about New Zealand's biosecurity requirements. The benefits of this environment is we can also deliver content via video and link to external resources for travelers to get further information or ask questions.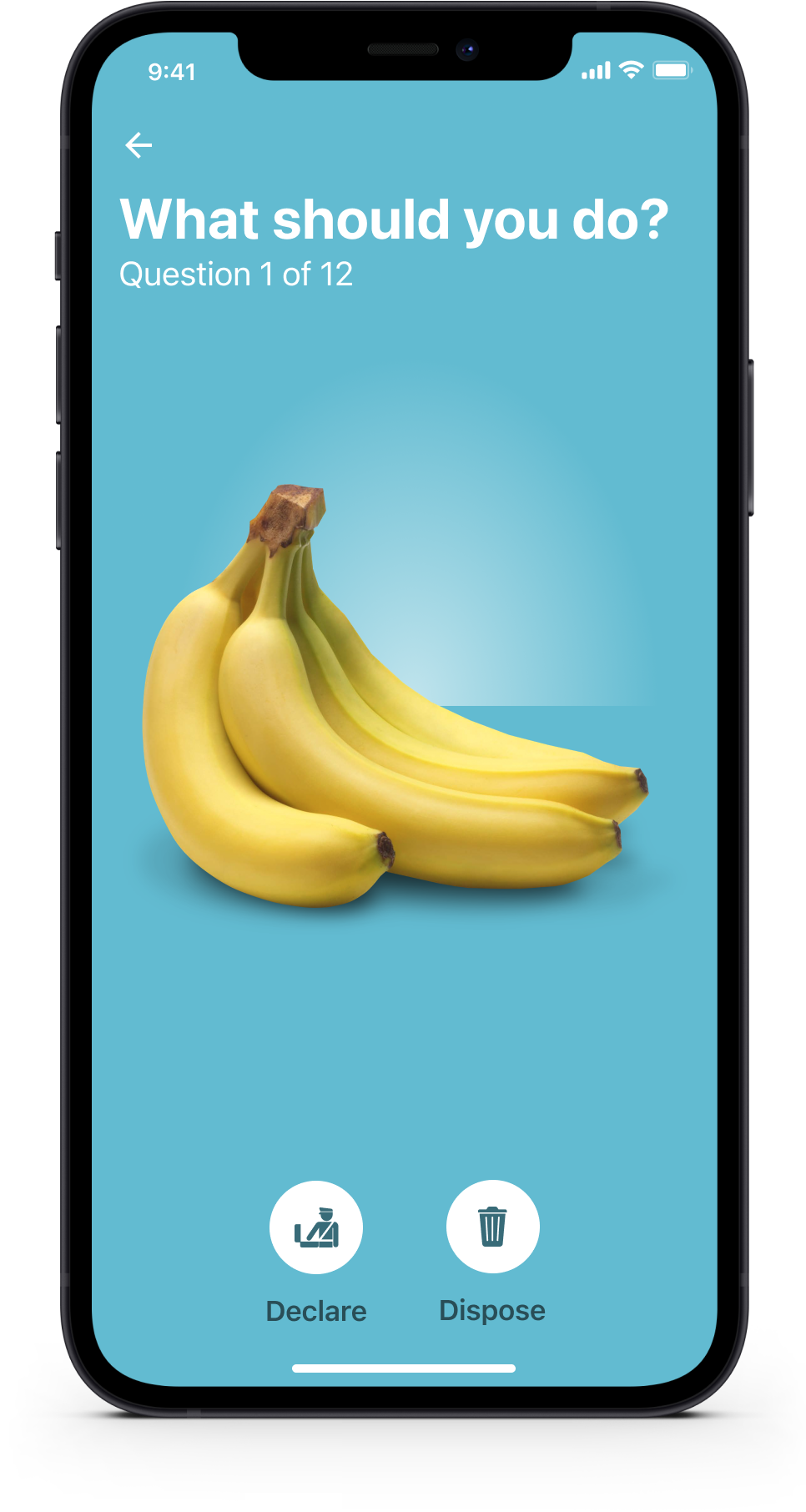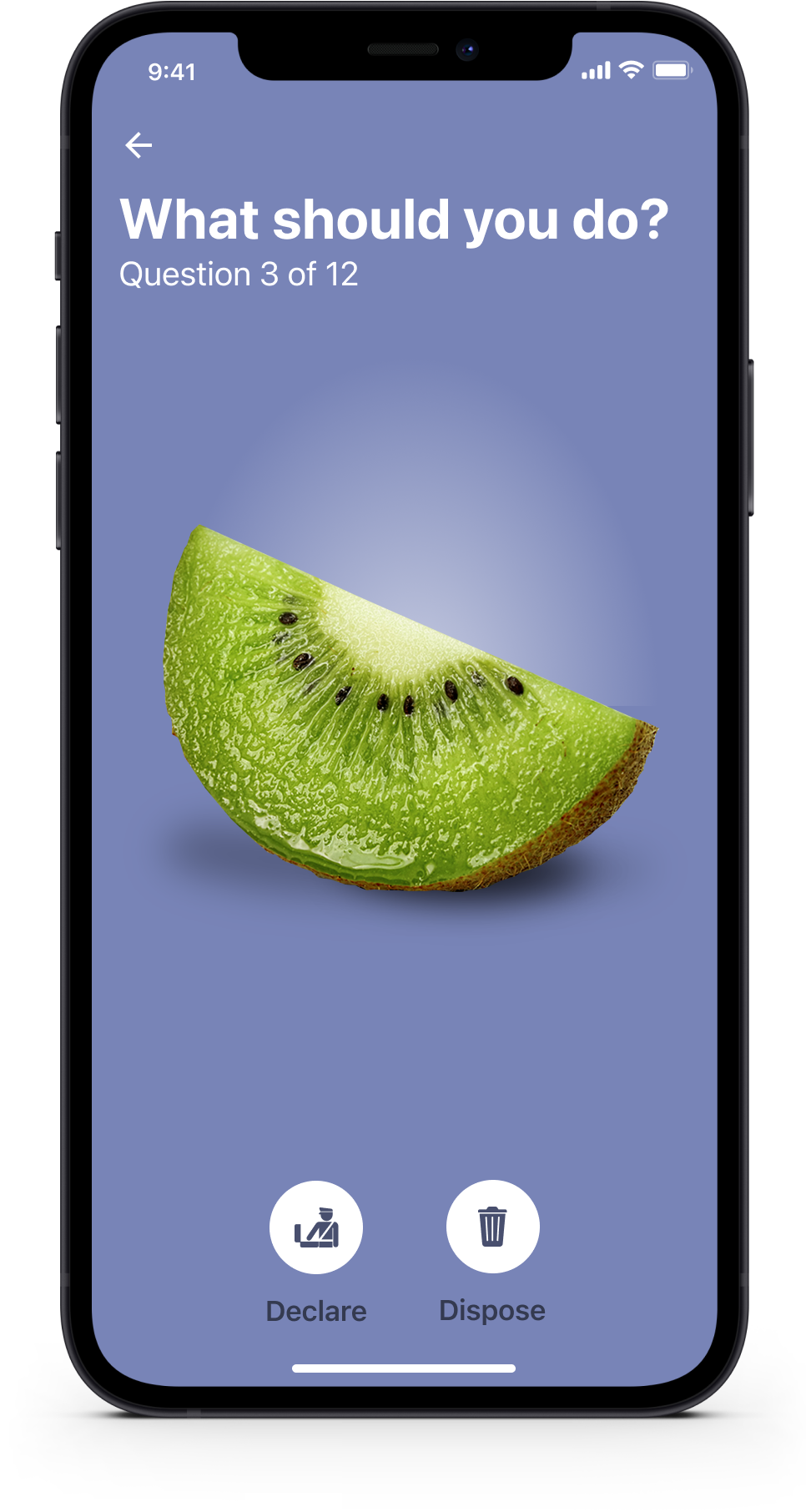 ---
Travel playing cards
If you don't have a smartphone or want to test your skills offline we have created a deck of playing cards which entertain and educate the travellers. The benefits of this approach is MPI gets the chance to communicate their message in a way the breaks away from traditional platforms or previous approaches. It's also a great way to burn time in between flights.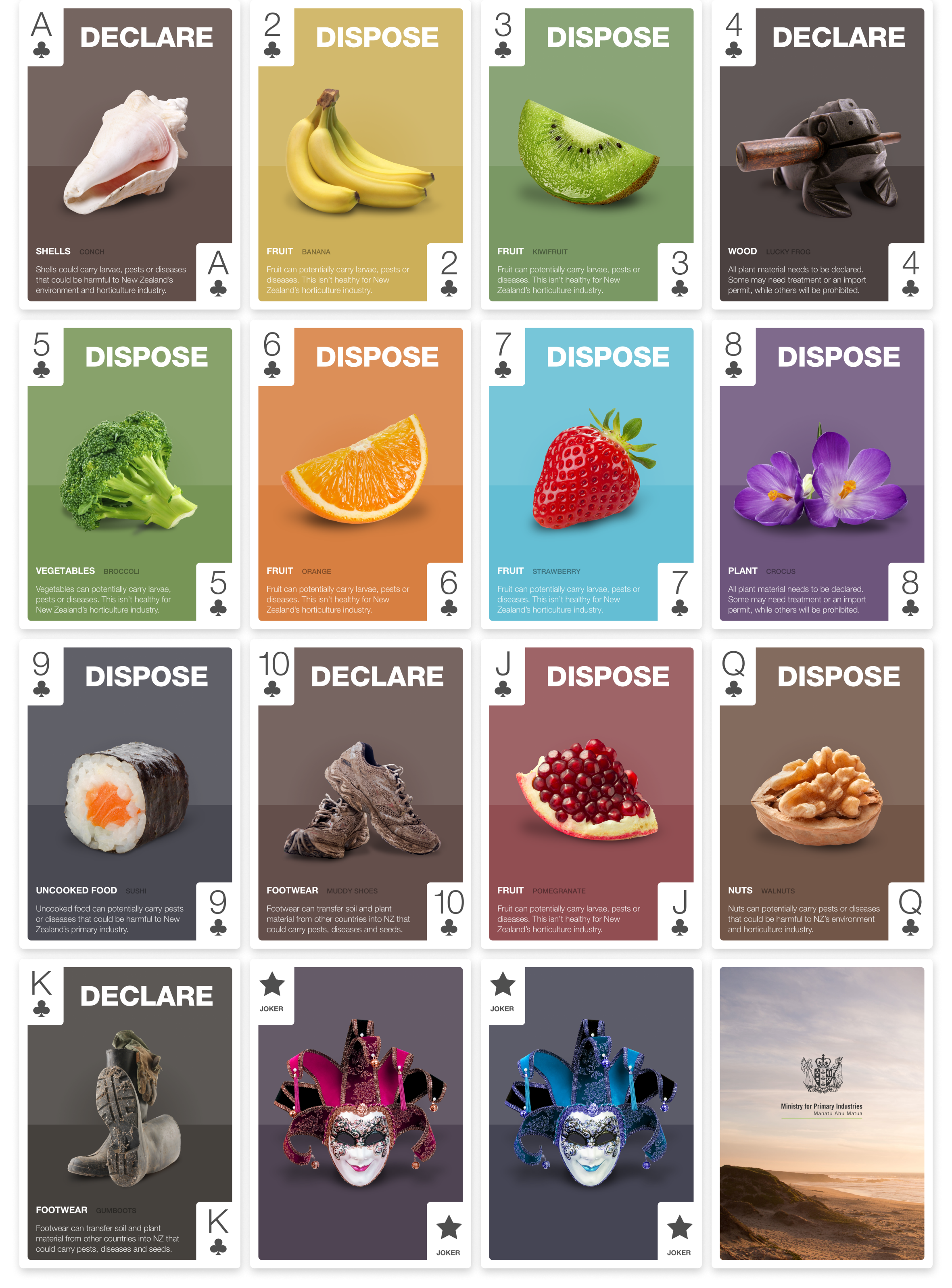 Final design
Here's a quick mock-up of how I intend the final design to look on an iPhone. I find by providing clients with photorealistic mockups in context it helps them to visualize how the finished product will look.